New funding will help change homes and lives
The European Union's bank has announced it is to invest £185 million in Wheatley. This is good news, writes Chief Executive Martin Armstrong, not just for affordable housing in Scotland, but for Wheatley's mission in 'Making Homes AND Lives Better' for thousands of people and families across the country.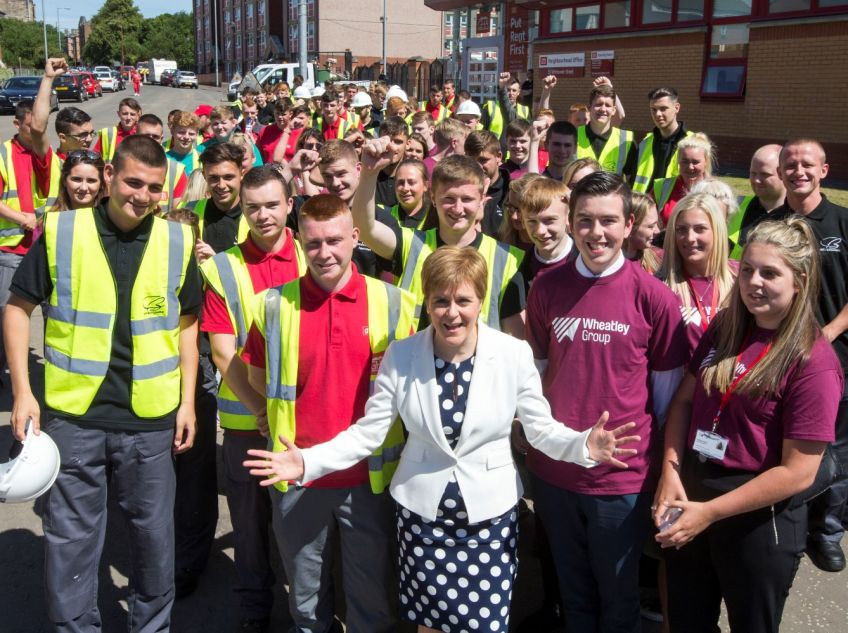 It is the largest loan of its kind made by the EIB in Scottish social housing and is a major boost for what we are doing in support of the Scottish Government's More Homes Scotland agenda.

As First Minister Nicola Sturgeon remarked when the investment announcement was made at a neighbourhood centre in the East of Glasgow, this is a huge vote of confidence in Scotland, social housing and Wheatley.

Wheatley was recently confirmed - for the second consecutive year - as the largest builder of social-rented homes in the UK. This is on the back of having raised £800M of private investment over the past five years to fund a house-building programme. Our plans now encompass building and completing 7500 new homes in the decade covering 2015 and 2025.

But it is about so much more than simply bricks and mortar. Wheatley's mission is to make lives, not just homes, better and the new EIB funding will aid us to bring about positive change in the lives of people in our communities.

Wheatley works for some of the most challenged communities in Scotland and our staff see up close and personal every day the impact poverty and disadvantage can have on the people and families living there.

In some parts of Glasgow almost three in four people are unemployed and more than half of those of working age don't have any qualifications. School attendance is low and people's chances of going to university lags far behind their middle-class neighbours.

Creating jobs, apprenticeships and training opportunities is for us a critical objective. Over the past decade or so, our Registered Social Landlords – Glasgow Housing Association, Cube, Loretto, West Lothian Housing Partnership, Dunedin Canmore and Barony – have created no fewer than 13,000.

This has been done through our award-winning Modern Apprenticeship programme, the Community Benefits clauses written into contracts with the suppliers and contractors who work for us and the Wheatley Pledge, which encourages the companies working for us to recruit unemployed people living in our homes or receive our care services.

It was wonderful to see the 112 apprentices and Modern Apprentices form a guard of honour for the First Minister and Jonathan Taylor, Vice President of the EIB, at the Reidvale Neighbourhood Centre where our latest funding announcement took place. It was a powerful symbol of our commitment to "make lives better".

Our aim is to create a further 2500 employment and training opportunities by 2020 and our new Wheatley Works pre-employability scheme, run by the Wheatley Foundation, our charitable trust, is key to that, helping to get hundreds of youngsters and long-term unemployed work ready for the opportunities we will create.

One young lad, who is training to be an electrician, told me: "It's great. I think I can see a future." A teenage girl who has just left school and won a place on our Modern Apprenticeship programme, told her teacher: "Miss, I can be a somebody now."

Both statements underline the importance of the EIB investment in Wheatley - and the importance for us, as Scotland's largest housing, care and property management group, to think beyond merely bricks and mortar.
Pictured above: Wheatley Group Chief Executive Martin Armstrong.
Monday, July 23, 2018