Scottish Housing Day 2023 celebrates housing as a career
The importance of housing as a career is the focus for this year's Scottish Housing Day which takes place today, Wednesday 13 September 2023.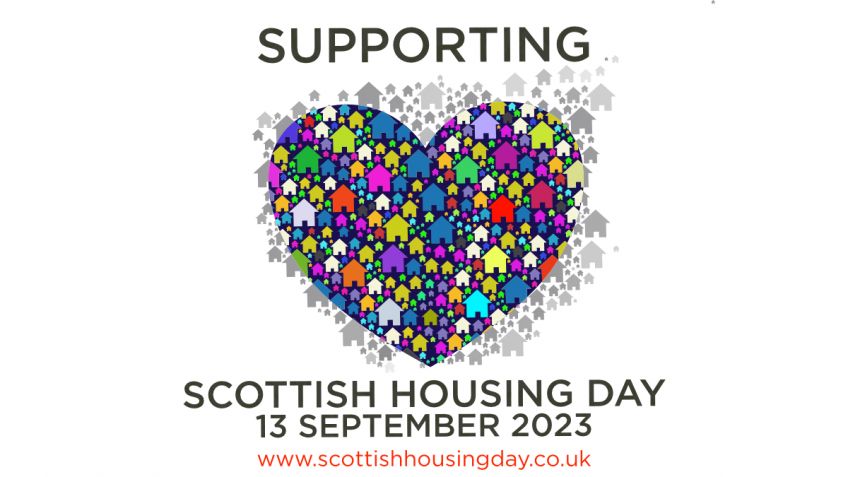 Scottish Housing Day is an annual event which aims to raise awareness of the challenges and successes in Scotland's housing sector, as well as encouraging the sector and members of the public to get involved by organising events, Q & A sessions, and sharing stories and blogs via social media.
This year we are celebrating careers across the housing the sector. Despite the lack of a sector-wide strategy on recruitment, retention or talent development, the housing sector successfully employs tens of thousands of professionals, across all tenures, who plan, build, maintain and manage Scotland's homes, delivering for tenants and customers across the country. This year's Scottish Housing Day is focused on raising awareness of the variety of roles and routes into the sector, making the case for housing to be recognised as an important and valued career.
Commenting on the day, CIH Scotland's national director and chair of the Scottish Housing Day working group Callum Chomczuk said:
"Housing to 2040 makes it clear that there will be increasing expectations on landlords, letting agents, housing practitioners and developers to deliver even more value for tenants and customers over the coming years. As such, there is a responsibility on employers to ensure they have a skilled, knowledgeable and ethical workforce that can improve housing outcomes for their communities.
Scotland's housing professionals are at the heart of our sector and the range of different roles on offer make housing an extremely varied and rewarding career choice. This year's Scottish Housing Day celebrates the work of everyone who has already chosen a career in housing, but also calls on the Scottish Government and other relevant agencies to play their role in communicating the value of a housing career, as well as ensuring that structures are in place to help skill up the next generation.
"We all share the ambition set out in Housing to 2040, so let's take the opportunity to do everything we can to ensure we have a skilled, educated and plentiful housing workforce that delivers the best possible service and outcomes for tenants, customers and communities."
Scotland's Housing Network's chief executive, Andrea Finkel Gates said:
" Scotland's Housing Network are proud to support Scottish Housing Day, celebrating the housing professionals who work tirelessly for the benefit for their tenants, customers and local communities. We are privileged to meet and work alongside housing professionals every day, and to see the broad range of opportunities that are available in the housing sector. We share the ambition to have housing as a career of choice and stand ready to play our role in supporting the next generation of housing professionals."
Wheatley Group chief executive, Steven Henderson said:
"Our young people at Wheatley Group are passionate about having a career which makes a real difference to people's lives. The housing sector is the perfect place for them to do just that.
"Today's young people in housing are tomorrow's leaders of the future. Through Wheatley's own modern apprenticeship and graduate programmes, we can offer young people, many from our own neighbourhoods, fantastic opportunities for a fulfilling career while also 'Making Homes and Lives Better' for our tenants."
Scottish Federation of Housing Associations director of external affairs, Carolyn Lochhead said:
"Across Scotland, our members employ thousands of dedicated, highly professional staff, working in hugely varied roles. From customer relations and advice, housing support, and strategic management to planning, building and maintaining homes, there is a housing role that will suit everyone.
"Home is everything, so housing is a fantastic sector to work in, offering the chance to make a real difference to people's lives. This Scottish Housing Day, SFHA is proud to celebrate all of the amazing staff across housing associations and co-operatives across Scotland, and to encourage people from all walks of life to consider a housing career".
Homes for Scotland chief executive, Jane Wood said:
"Housing is fundamental to the social wellbeing of everyone living in Scotland, from their physical and mental health to education, learning and so much more. Everyone who works in the sector plays a key role in this, so it is very rewarding and there really is something to suit everyone in terms of roles and aspirations.
"In home building, this ranges from onsite staff including sales advisers, site managers, trades and apprentices to the vast range of behind the scenes support such as administration, marketing, HR, finance, legal, planning, architecture, engineering and surveying. There's great scope for progression and some excellent resources available for those who want to find out more such as goconstruct.org."
Wednesday, September 13, 2023